"Everybody's got a story to tell," sings songwriter and multi-instrumentalist Steve Schultz on the lead single off his upcoming EP, and he is no exception. A Nashville-based indie artist playing a mix of rock, power pop, and soul, Steve's story starts 90 miles north of Manhattan in New York's Hudson Valley where he spent hours and hours immersed in the music of The Beatles, Billy Joel, Bruce Springsteen, Paul Simon, and more. After almost 10 years in the New York music scene that included countless shows, 2 records, and a stint fronting an award-winning cover band, Steve knew it was time for a change. Time for something more.
Following a week-long trip in the spring of 2014, Steve moved to Nashville that fall with no contacts, no job, and no place to live, but soon found himself performing on stage at the Bluebird Cafe and recording at famed Blackbird Studios. He spent a year as part of rock band Bearing Torches as they collaborated with legendary engineer Bob Clearmountain (Bruce Springsteen, David Bowie, Bon Jovi) and played side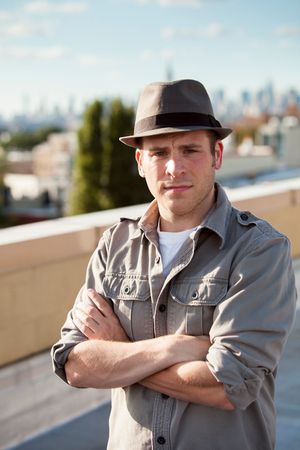 man for nationally and regionally-touring artists, as well as local talents. But mostly, Steve dove head-first into the Nashville songwriting scene, finding inspiration in songwriters and performers he didn't even know existed before moving to Tennessee just a few short months before.
And it was in late 2019 after a run of shows with a band that paid the bills, but wasn't very fulfilling that Steve decided it was time to focus on why he left New York in the first place. Produced and recorded by Steve, mixed by Joe Costa (Ben Folds, Sara Bareilles), and mastered by Alex McCollough, "Small Batch, Vol. 1" - his first solo Nashville-based project - will be rolled out through 2021.
Dallas Songwriters Association Song Contest
-2013 2-time Semifinalist ("Shadow" & "The Hands of Angels")

Hudson Valley Magazine's "Best of Hudson Valley"
-2013 Best Local Musician (In The Pocket)

New York Songwriters Circle
-2013 October Showcase Performer
-2014 August Showcase Performer

New York Songwriters Collective
-2013 July Showcase Featured Performer

Nashville Songwriters Association
-2018 January "Ones To Watch"
-2016 February "Ones To Watch"
-2016 April "Ones To Watch"

SongDoor International Songwriting Competition
-2013 3-time Honorable Mention ("Shadow," "Over The Edge,"
"Dream Me In Your Arms")

Songwriters Hall of Fame
-2010 Spring Writers Workshop Participant

West Cost Songwriters International Song Contest
-2013 Honorable Mention ("Shadow")

Williamsburg Live Songwriting Competition
-2008 Second Round Finalist ("Over The Edge")